Local Programs
Are you planning a community event or a grand opening, sponsoring a field day, conference or symposium? The VCE Master Gardener volunteers will take their show on the road! Comfortable manning an information booth or strolling among crowds, these highly trained volunteers are eager to answer questions and problem solve on any number of horticulture topics: houseplants, vegetable gardens, erosion control, healthy landscapes, insects and bugs, and everything in between! You can also find VCE Newport News Master Gardeners at many local events like the Children's Festival and the Fall Festival of Folklore.

Please visit the Master Gardener webpage for more details
Schools, hospitals, parks, places of worship, private businesses, and individual communities are just a few examples of where a community garden can be found. The Extension Master Gardeners have information which will help your dreams of a community garden come true. We can also assist with planning or designing your garden or in the education of those working your garden, steering you down the path to a successful bounty. Just remember, when you plant your veggies you will need flowers for the pollinators!
Feel free to visit the Newport News Master Gardeners webpage:  https://www.nnmastergardeners.org
or visit our Facebook page:  VCE/Newport News Master Gardeners Association - Home | Facebook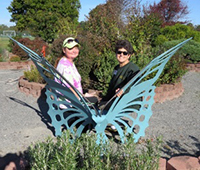 Designed in the shape of a clown's face, this garden located in Riverview Farm Park provides a unique educational opportunity for families to have fun while learning about nature and the environment. Visit http://www.nnmastergardeners.org/ to download 5 garden activities.  Master Gardener Yvonne Tung developed and designed this garden since 2002. Yvonne has since passed but the joy and peacefulness of the Grin & Grow Garden continues.

The Grin & Grow is open to view.   Feel free to call 757-591-4838 with any questions.
Do you need a speaker or a presenter at your event?
We have Extension Master Gardeners who can give presentations or lectures on gardening techniques, plants, general horticulture, tree stewardship, water stewardship, and land stewardship to you organization.
Give us a call at 757-591-4838 for more information.
School-aged children learn about plants and how they grow with programs that are tailored to the age group.  After a short lesson on the life cycle of a plant, kids roll up their sleeves and get their hands in the dirt potting soil and planting seeds.  This "make and take" activity is a hit since each child takes his/her planting home.  
Feel free to visit the Newport News Master Gardeners webpage:  https://www.nnmastergardeners.org
or visit our Facebook page:  VCE/Newport News Master Gardeners Association - Home | Facebook
This popular program began in 2009 as a partnership between Virginia Cooperative Extension, the Newport News Master Gardener Water Stewards, and the City of Newport News Waterworks.  Since its inception, over 1000 rain barrels have been built. Workshops are offered throughout the year.   Space is limited, so register early.
Learn how to make rain barrel for your garden.  It's great for the environment and it saves municipal water.  The current barrel cost is $60 a piece.  The class itself is free, but you need to register ahead of time.  
Our training classes are held in the fall.  Training is a combination of weekly Zoom classes and in-person events that begin in mid-August and run through mid-November.  There are minimum attendance requirements, open-book tests and assigned reading and video watching each week.  After finishing training successfully, Interns are required to give 50 volunteer hours of educational programming in our Newport News programs and activities.  Applications are available beginning available NOW thru June 16th with classes starting August 16 and ending November 8, 2023. Reach out to us through our Contact Us page if you'd like someone to call you with more information about becoming a Newport News Extension Master Gardener.
Virginia Cooperative Extension Expands Healthy Living Program with Gift from the Walmart Foundation

Volunteers Needed for Family & Consumer Science Program
The Newport News office of Virginia Cooperative Extension, Family & Consumer Sciences is interested in obtaining passionate individuals that want to hone their skills while working with the diverse residents of Newport News and Hampton. Volunteers are needed in the area of family financial management, youth nutrition and money smart, campaign coordinator support, volunteer coordinator support, senior educators (older adults), GED tutors for adult and youth.
Comprehensive training takes candidates from entry level to experienced educators, mentors, budget counselors, and other dynamic positions. Volunteers will have the opportunity to attend various training, join networking groups, build community partnerships, attend resource fairs, conduct community and internal trainings, and much more./p>
Master Financial Education Volunteers
Master Food Volunteers
Marketing and Administrative support volunteers/p>
Spanish Speaking Volunteers
Registration:  Please contact Sonja Mitchell at sonjatm@vt.edu or 757-591-4838 if interested.

Additional Information

All kids can join 4-H, boys and girls, kids in grades K-12, in all counties in the U.S., on military bases all over the world, in cities, suburbs, small towns, in the country, and on Reservations. 4-H means to you being active experiental learning, learning by doing, youth are leaders, youth are volunteers, and kids pick their own projects.  4-H has lots of projects: photography, technology, leadership, animals, horticulture, health, citizenship, nutrition, clothing, rocketry, woodworking, entomology, and arts and theatre.  4-H youth are cared about and feel a sense of BELONGING, influence people and events through decision-making and action-exercising INDEPENDENCE, learn skills to make positive career and life choices - a sense of MASTERY, and learn that helping others through community service is important - experiencing GENEROSITY.  
4-H
HEAD,  HEART,  HANDS,  HEALTH
The 4-H Clover means the projects are fun, kids are actively involved, there is quality curriculum, the program is educational and the leaders care about kids.
This is our fun yearly activity for boys and girls ages 9-13.  Stay tuned for our 2023 4-H Jr. Camp
Scan the QR code to register for updates for the 2023 Newport News 4-H Junior Summer Camp.

2023 Newport News 4H JRCamp Flyer.pdf
Engaging with Communities
Virginia Cooperative Extension specialists in community viability work with Extension agents, campus-based faculty, organizational partners, communities, and individuals to further opportunity and build capacity in five program areas:   
Examples of our work include training county elected officials, educating entrepreneurs, facilitating collaborative projects, supporting the growth of community food systems and local economies, enhancing agent skills and community capacity in facilitation and leadership, conducting problem-driven research, and creating publications and tools that address critical community needs.
Do you have a question about Community Viability?
Perhaps one of the Community Viability specialists below can help you. Contact a Community Viability specialist or direct a question to them using our Ask an Expert system.
Community Viability Specialists